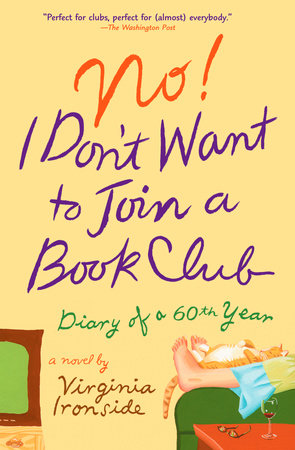 Imagine Bridget Jones at age 60 and you'll have a good idea of Marie Sharp, the narrator of the terribly-titled No! I Don't Want to Join a Book Club. Ironically, I received this apty subtitled paperback – "Diary of a 6oth year" – at my own book club's holiday gift exchange. Rest assured, I have no intention of leaving my book group!
Author Virginia Ironside tells Marie's story through diary entries. Marie is a no-nonsense woman about to turn 60; she has no qualms about doing so. Rather, she embraces the idea of the milestone birthday as a rite of passage which will allow her to do as she pleases rather than striving to meet expectations held by others. In the process she has decided to give up men and focus on a few close friendships. She vows not to do anything she doesn't want to, in addition to avoiding book clubs this includes joining a gym and learning Italian.
Marie is a former art teacher, divorcee, the mother of a grown son and has several good friends. References to her carefree days in the 1960s indicate she hasn't spent her life as a stick-in-the-mud.
Ironside injects plenty of humor among several poignant observations. Predictably, Marie experiences the cycle of life and plenty of surprises during the 18 months of entries she shares. She is, perhaps, most surprised by the depth of emotion she has for her newborn grandson. Despite her vow of no romantic liaisons, it's possible that door may not be completely barricaded.
No! I Don't Want to Join a Book Club
Three-and-a-half bookmarks
Plume Books, 2008
231 pages