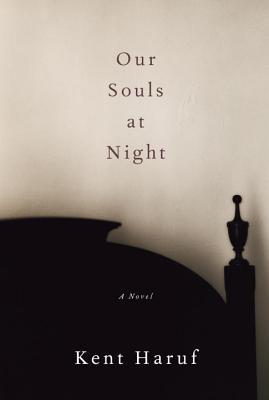 Our Souls at Night by Kent Haruf is best described as sweet. This terse novel was published posthumously, and its content makes me imagine that the author was in his final days when he penned it. This is a story of finding a way out of loneliness while believing that the opinions of others have little value or impact.
Addie Moore and Lewis Waters are widowed and living in the fictional town of Holt on Colorado's eastern plains. This is Haruf's preferred setting as many of his previous works have centered around this small communityand its residents. Anyone familiar with his writing will recognize names and places.
One day, Addie calls Lewis. They have known each other for years, but only peripherally. She wonders if he would like to spend the night. This is no brazen, immoral solicitation. It is one lonely heart reaching out to another.
Addie's son and grandson figure into the narrative as does Lewis's daughter. The townspeople make sure these adult children are aware of what their parents are doing.
Haruf provides a lot of detail such as teeth brushing and lawn care for someone trading in a scarcity of words (after all, the book is less than 200 pages long).
Unfortunately, the premise, which is touching and somewhat whimsical, overshadows the writing, which is too mundane to be enchanting. Anyone who has experienced a meaningful relationship (be it lover or friend) will appreciate the warmth drawn from conversations that happen just before sleep.
Our Souls at Night
Three bookmarks
Alfred A. Knopf, 2015
179 pages