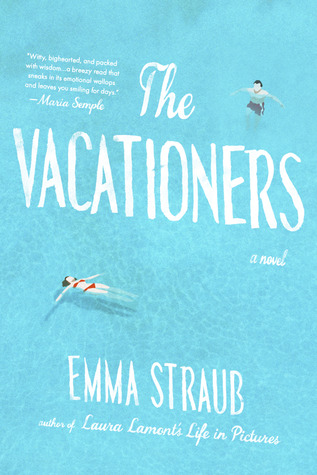 The Vacationers by Emma Straub is as bright as a day on the beach and also as gritty. Full of poignant, laugh-out-loud descriptions, Straub masterfully portrays a family in crisis.
Jim and Franny Post, with their teenage-daughter, thirty-something son, his girlfriend, and Franny's best friend Charles and his partner are slated to spend two weeks together in a large rented house on Mallorca. Each chapter represents one day of the vacation and every day includes various perspectives provided by the connected tourists. These are separate views more than distinct voices. Each character hopes to project, or better yet protect, a certain image, because everyone has a secret – some known to a few, others hidden.
The Posts, married 35 years, are financially well-off, privileged. Their daughter, Sylvia, is set to start at Brown in the fall, and the trip was planned as a family celebration. However, in the interim from when the trip was conceived and actually occurs, Jim has had an affair and lost his job. Some know this; others don't.
As the emotional baggage is shuffled around, the Posts direct their own disappointments to Carmen, the girlfriend. She's perhaps the most honest among the group, but she is also subjected to the family's rude behavior. Only Sylvia demonstrates fleeting moments of kindness and understanding.
Yet, the novel isn't about being mean to others. It's focused on what people do to live with themselves, even when they're basking in the sun and have been out too long without sunscreen.
The Vacationers
Four Bookmarks
Riverhead Books, 2014
292 pages