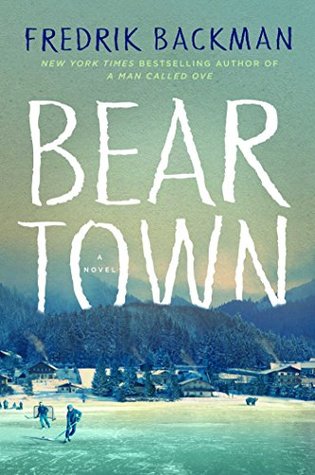 Fredrik Backman hit the bestseller list in the United States with A Man Called Ove in 2013. (Several of his books are reviewed here on The Blue Page Special). Beartown, his most recent, is as engaging and character-driven as his previous work. Yet, in many ways, it's also a departure.
The small, isolated town of the title is cold and bleak, where hockey reigns, followed closely by poverty. This is a story about fitting in, motivation, pain, teen angst, adult misperceptions and misplaced loyalty. It lacks the blatant quirkiness of some of  Backman's earlier novels and teeters near the edge of predictability. Its salvation lies in the strength of the characters. Some fall into the cliché category while most are remarkable and credible, if not always likeable.
The first sentence is a grabber; actually, it's more like a full body check: "late one evening toward the end of March, a teenager picked up a double-barreled shotgun, walked into the forest, put the gun to someone else's forehead, and pulled the trigger."
The town's economy depends on the success of its junior ice hockey team winning a championship. It's well positioned to do so thanks to the group of players who have been together for years and the exceptional talents of a particular player.
However, as Backman describes the players, their families, fans and town residents, it becomes evident that all is not as it appears. This is about secrets, self-identity and the drive not just to succeed but to survive.
Beartown
Four bookmarks
Atria Books, 2017
432 pages