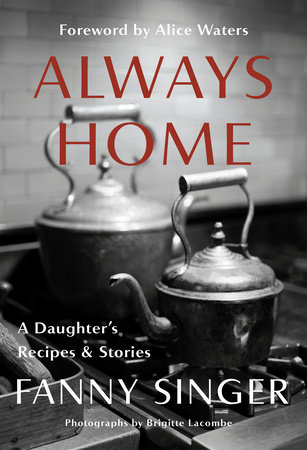 Always Home by Fanny Singer is a beautifully-written homage to her childhood as the daughter of renowned chef and food activist, Alice Waters. The inspired black and white photos and recipes are a bonus.
Singer was born after Chez Panisse opened its doors. The Berkeley restaurant, at the forefront of using locally-grown, organic ingredients, is where California cuisine and Waters garnered international attention. The book reveals as much about Waters as the author; it creates a sense of envy at their lifestyle. Not only because of the food prepared and eaten, but their travel experiences. Summers in the south of France, vacations in Italy and Mexico are vividly rendered through descriptions of the landscapes, along with meals and those with whom they were shared.
Yes, Singer is close to her mother but Waters isn't the only influence on this accomplished writer. A host of honorary aunts, uncles, grandparents and those with direct connections to the restaurant, considered "La Famille Panisse," fill the pages in much the same way they contribute to Singer's life.
Each chapter is filled with humor – some self-deprecating. While this might be considered a memoir, it flows more organically, as if Singer is having a conversation with the reader. Her memories are recounted in no specific, chronological order as vignettes: a Christmas here or school trip there. The result is an engaging and fun read.
Brigitte Lacombe's photographs enhance the pages. Consequently, a coffee table seems a better place than a bookshelf for showing off this work.
Always Home
Four Bookmarks
Alfred A. Knopf, 2020
317 pages