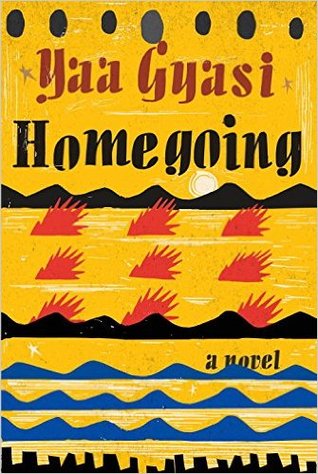 At first, Homegoing by Yaa Gyasi seems more like a collection of short stories than a novel and that, along with the title, is part of its beauty.
Spanning more than 300 years, this is an epic tale of the evolution of a family. Each chapter focuses on a specific character and could be a stand-alone story. Fortunately,  a thread connects one to the other, even though there are some knots and loops along the way. These simply enhance the narrative. There is a chronology but not in the traditional sense.
In 18th century Ghana, Effia, the young beautiful daughter of a village chief is married to an Englishman, where she lives in a castle. She's unaware that her half-sister, Esi, is imprisoned in the castle dungeon as a slave to be sold and sent to America.
The author traces, through the years, the lives of the sisters' descendants  as they experience warfare among Ghanian tribes, plantation slavery, British colonization, the migration from Alabama to Harlem, and more.
Gyasi provides portraits of 14 distinct main characters and a supporting cast of dozens more. Each is nuanced through his or her experience, determination and environment. Almost equally important are the landscapes; the element of place shapes the individuals in ways that can't be ignored. There are lush and harsh jungles, shorelines, cotton fields, inner-city Baltimore, Alabama coal mines and smoky jazz bars.
Survival and the strength of family ties resonate in every chapter as each character takes a turn in the spotlight.
Homegoing
Four Bookmarks
Alfred A. Knopf, 2016
305 pages