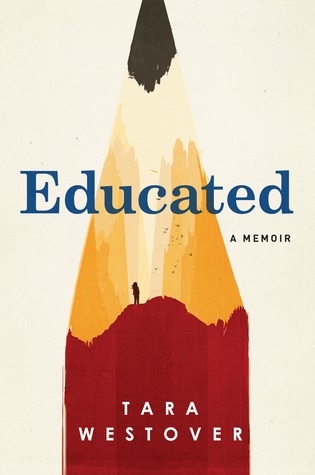 Educated by Tara Westover is one of the most emotionally difficult books I've read, but I couldn't put it down.
The memoir recounts Westover's journey as the daughter of survivalists in rural Idaho. The government was never to be trusted, neither were doctors or teachers. She never attended school; to say her mother's efforts at homeschooling fell short is, at best, an understatement. Although hospital care was necessary a few times, the family relied on her mother's knowledge of herbs.
For much of her life, Westover never questioned her family's lifestyle. She had no basis for comparison. This isn't the only aspect making this a challenging book. It was the physical and verbal abuse at the hands of her brother, Shawn. Her parents offered no protection.
Yet, Westover teaches herself how to study and pass the ACT with a score high enough to get accepted into Brigham Young University. From there she studies at Cambridge and Harvard universities, eventually earning a doctorate degree in history from Cambridge.
This is a gritty, heart-breaking narrative and Westover's self-realization comes with a high price: she must either renounce her education or her family. When she refuses to give in to her parents demands, she is disowned, shunned by her most of her family. Her father's fervent interpretation of the Bible doesn't include anything close to acceptance or unconditional love.
Westover's education extends beyond books and lectures. Her story reflects how much she gained once out of her family's shadow and what she lost.
Educated
Four-and-a-half Bookmarks
Random House, 2018
322 pages