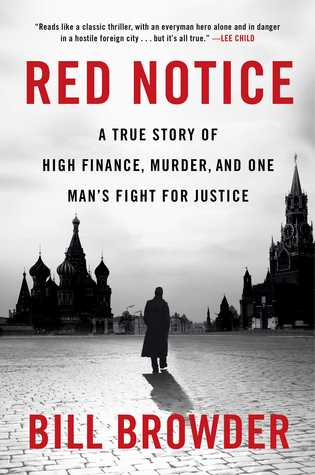 Red Notice by Bill Browder is a true-life tale involving financial investments, conspiracy, Russian intrigue and, ultimately, murder. A look at how U.S. laws are enacted is also included. A red notice is essentially an international arrest warrant. Putin tried, unsuccessfully, to have one placed on the author. The political climate with Russia makes this a timely read.
Browder recounts his experience as a foreign investor in Russia following the breakup of the Soviet Union. He discovers a motherlode, secures investors and founds his own capital management firm. Initially, the focus is on Browder's financial acumen. Then, things get ugly for him and his associates when he exposes corruption in – surprise! – the Russian government.
Browder's visa is revoked, but he's able to covertly move his company's holdings out of Russia saving his clients' fortunes in the process. However, this isn't where the author reveals his valor. That comes in the narrative's final third as he seeks justice for the abuse and murder of his friend/attorney, Sergei Magnitsky, who revealed a multi-million dollar fraud committed by the Kremlin.
Browder's efforts, along with assistance from U.S. government officials, helped put in place the Magnitsky Act, which, initially*, blocked Russian officials and business leaders from entering the United States and froze their assets held by U.S. banks.
Guilt motivates Browder's actions, but the true hero of the story is Magnitsky who steadfastly believed truth and fairness would prevail.
With some exceptions, such as occasional extraneous details, the rapid-fire pacing makes Browder's story engaging.
Red Notice: A True Story of Finance, Murder, and One Man's fight for Justice
Four Bookmarks
Simon & Schuster, 2015
396 pages, includes notes and index
*The act was expanded in 2016 and now applies sanctions to human rights abusers worldwide.