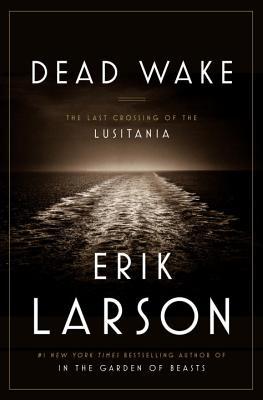 It takes Erik Larson about 100 pages to finally let the Lusitania set sail from New York City in May 1915. Dead Wake, his account of the doomed luxury liner, is exhaustive in detail and detached in its descriptions of the events leading to its historic sinking. No need for a spoiler alert here; many consider the German sinking of the Lusitania is what ultimately led the United States to join the British and French allies in World War I.
Larson's research on the subject is thorough (there are more than 50 pages of notes). He addresses everything from the backgrounds of the ships' captains involved, to the weather leading up to the point the ship left sight of land, to how the dining room was decorated for first class passengers. There's more: brief bios about passengers, history of submarines, how Cunard came to name its fleet, and even Wilson's love life as he strove to maintain neutrality for the U.S. even as events continued to escalate in Europe.
While it is heartbreaking to know that a record number of families with children were on board, the concise elements Larson provides about the passengers makes it difficult to have a true sense of their characters. This does not mean the event was less tragic, just that the book offers little except a historic narrative.
As with any tragedy, fingers pointing blame are plentiful; Larson offers numerous what ifs, which, of course, do nothing to change the course of history.
Dead Wake
Not-quite-three Bookmarks
Crown Publishers, 2015
430 pages (including notes and index)