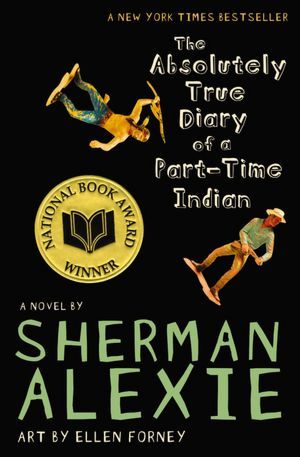 When I worked as a writing tutor at the local community college, I saw enough rhetorical and critical analyses on Sherman Alexis's "Superman and Me" to fill a classroom – floor to ceiling. I knew his essay inside and out. Until now I was unfamiliar with his other writings. The Absolutely True Diary of a Part-Time Indian is a fictional account (complete with cartoon illustrations by Ellen Forney) of Arnold Spirit Jr., aka Junior, aka Arnold.
Certainly, similarities exist to Alexis's life growing up on the Spokane Indian reservation in eastern Washington, but the diary entries are fiction. They follow Junior/Arnold in his freshman year of high school. Plenty of back story is provided, beginning with Arnold/Junior's birth defects that physically, socially and intellectually isolate him from most others on the reservation. He's suspended on the first day of school and decides to transfer to the "white" school 22 miles away. On the reservation he's known as Junior; at the new school he's Arnold.
He changes schools in hopes of opening new doors while learning to accept that old ones are slammed in the process. His life is a dichotomy. He's always struggled to fit in and expects to endure the same at the new school. It's clear from the onset that Junior/Arnold is an underdog, so the outcome is predictable. The transformation of other characters is what's most heartening; it shows that tribes can be of our own creation. This is evident through the diary reflecting its author's humor, perception and emotion.
Four Bookmarks
The Absolutely True Diary of a Part-Time Indian
Little, Brown & Co., 2007
230 pages